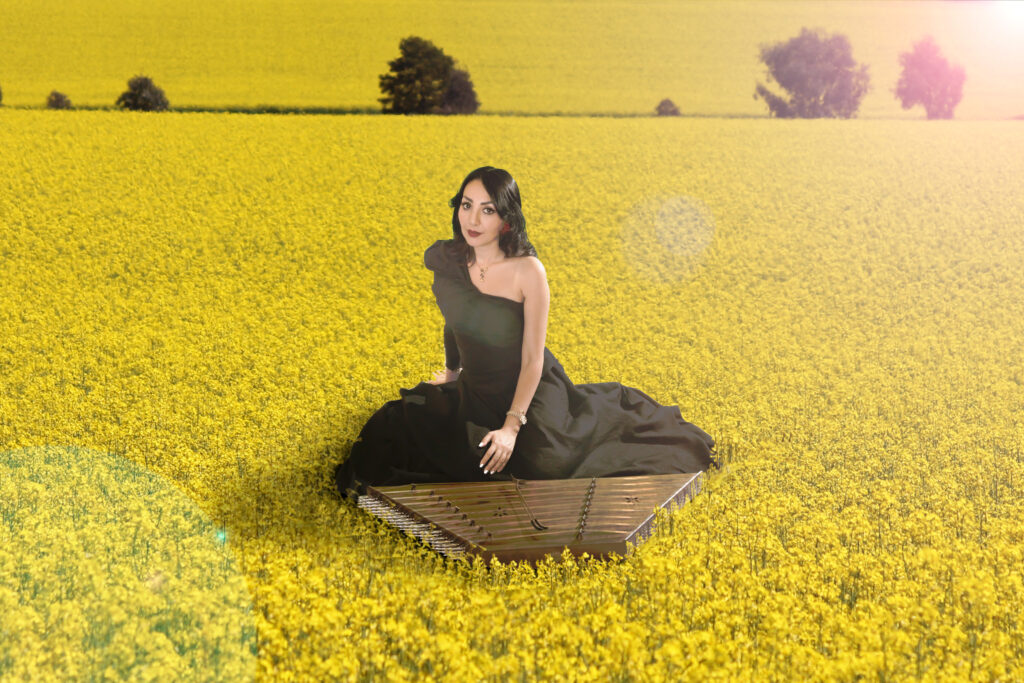 Mahsa Golmakani started her musical education at the Music Academy in Tehran in 1989 and chose the traditional Persian instrument Santur as her primary instrument under the supervision of Mrs. Mina Oftadeh. During the next seven years at the Music Academy she attended various lectures led by teachers such as Kambiz Roshanravan, Arshad Tahmasebi, Kamal Purtorab, Hossein Alizadeh, Maliheh Saeidi and Mohammad Esmaeili.
Mahsa chose Piano as her secondary instrument under the supervision of Mrs. Niloofar Farzandshad.
After completing her studies in 1996 at the Music Academy Mahsa proceeded with her musical education at the Conservatorium of Music in Teheran.
During the next five years at the Conservatorium of Music Mahsa attended lectures of several distinguished masters of Persian Music such as Pashang Kamkar, Mohamad Sarir, Saeid Sabet and Farhad Fakhredini.
Mahsa started her career as Santur teacher soon after completing her studies at the Music academy in Tehran and at the same time she engaged with many different famous music groups performing in front of large audiences.
In year 1997 she participated at Fadjr music competition and received the second prize for her solo performance with Santur (Rudaki hall – Tehran).
Between 1999 and 2000 Mahsa went on a tour through various cities in the Netherlands and France with the groups Kereshmeh and Mehvarzan.
During the years 1996 to 2005 Mahsa was teaching both Piano and Santoor at several music schools in Tehran.
In addition to her teaching activities she composed and recorded several songs for a children program sponsored by the Iranian broadcasting Corporation.
Mahsa performed as backing vocalist, working with artist Alireza Assar, a famous Persian pop singer and composer, for 10 years from 1997 to 2004.
In year 2005 after moving to the Netherlands Mahsa continued her career as a music teacher at Parnian Iranian Music School in Amsterdam. During her time in the Netherlands Mahsa had a close corporation with the Mezrab group led by Hamid Motebassem, a well-known Iranian composer and Tar player.
In April 2006 Mahsa went on a large-scale tour throughout Europe with Khonya group. This tour took her through countries such as Switzerland (Festival of Music), Germany and France (UNESCO)
Mahsa relocated with her family to Canada in 2007 and has continued her activities teaching Santur in Zangooleh Music School and holding private classes.
Mahsa has always envisioned collaborating with women artists. She made the dream come true early 2016 by establishing "Jaana Ensemble" consist mainly of women with the purpose of demonstrating their abilities and employing talents. She currently acts as Jaana music director. Since 2016 the ensemble performed different music activities.